AIR & DIRT REMOVAL
Air and dirt removal are essential for a healthy heating system, and only when the two work together can you achieve the best results.
Offering a 'two-in-one' approach, the SpiroCombi MB3 combines both a deaerator and dirt separator in one unit for continuous protection. This solution can be easily fitted onto the pipework of new and existing heating systems to remove air and dirt.
Your installer will decide where best to fit the unit depending on the age and condition of the heating system. For example, on a new system, the SpiroCombi MB3 will be fitted at the start of the pipework to prevent air from circulating around the pipework. Alternatively, on an older system, it will be fitted on the pipe returning to the boiler to catch and remove any dirt and debris before it can make its way back into the boiler.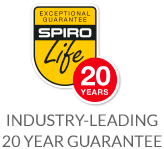 SpiroCombi
Ongoing protection against dirt and air
Sturdy brass unit
Easy to install
Quick and clean to drain