DIRT REMOVAL
Dirt that forms in your heating system can be removed on a continual basis with the installation of a dirt separator such as the SpiroTrap MB3. This device is easily fitted to your boiler pipework and uses a special filter with magnet technology to capture any dirt and debris from the system, before it makes its way back into the boiler.
The collected dirt is then quickly and easily emptied from the dirt separator with no mess, as part of your annual boiler service.
You may find that your installer has already recommended a dirt separator or system filter, as they are often now required to qualify for extended boiler warranties.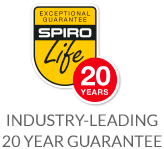 Spirotrap mb3
Ongoing protection against dirt
Sturdy brass unit
Easy to install
Quick and clean to drain
New British Standard from 2019
In 2019, the British Standard BS 7593 was updated to provide new and clearer guidance on the preparation, installation and servicing of heating systems. This introduced a series of new requirements that installers must meet.
The revised BS 7593:2019 code of practice states that as well as removing any existing dirt from the system using a power flush and/or chemicals, a permanent in-line filter such as the SpiroTrap MB3 must now be installed on every system and should be serviced regularly. This has been introduced to protect the heating system and maintain its efficiency.