AIR REMOVAL
Remove air from your heating system and you will prevent dirt from causing problems too. Without oxygen, corrosion won't take place and magnetite will not form.
To be completely confident that all air is being removed from your system, your installer may recommend a deaerator, such as the SpiroVent RV2.
A deaerator uses specialist venting technology to continually remove all types of air. The unit is simple to install on your boiler pipework and will remove air from the hot water, as soon as it exits the boiler. This prevents air from circulating, which means air pockets and dirt do not form.
When used in conjunction with a dirt separator like the SpiroTrap MB3, you can have peace of mind that your heating system will be protected from the damaging effects of air and dirt for many years to come.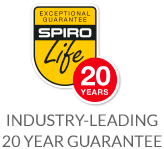 SpiroVent RV2
Ongoing protection against air
Prevents magnetite formation
Sturdy brass unit
Easy to install